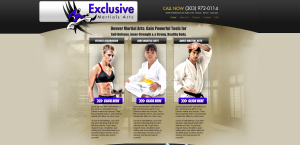 exclusivemartialarts.net
Description of exclusivemartialarts.net
Exclusive Martial Arts | Denver Kids & Adults Taekwondo
The more the red, the more bad words were used to describe the site
Loading the stats for exclusivemartialarts.net
Reviews : 1
Scroll down to see 1 review(s) about exclusivemartialarts.net
Want To Make A Review For exclusivemartialarts.net ?
It Only takes

two

minutes to make a review.
Have fun writing a review about exclusivemartialarts.net.
You can do it. Just click the button.
---
100 %
Conflict Resolution
|
2
" Eexclusive martial arts is A Grate school "
---
My daughter started with Exclusive Marital Arts threw the school program and really enjoyed it they made the experience really fun for her and the other students. After the program we decided to do the 30 day trial at the studio after the program. She still loves it as is on her way to getting her black belt. The instructors and staff are awesome with the kids and very patient also. I recommend exclusive martial arts to anyone interested in putting their kids martial arts. Or themselves.
---
Positive words shared:
Affordable
Awesome
Caring
Good Service
Happy
Respect
Great Products
Negative words shared:
1
---
ReviewDrill is a new website. Please let us know any feedback to make the site better.
Enter Feedback
ReviewDrill.com is a website dedicated to making the online shopping experience better.


---

We do this by providing a place for shoppers to share their online shopping experiences and a unique way to find websites that sells specific items.